The Mohs Scale
31/03/2022
by
Paula Parra
in Mining
The Mohs scale was created in the first half of the 19th century by the German geologist Friedrich Mohs. Today, it is the best known method used to define the hardness of minerals. There are other hardness scales such as the Knoop, Brinell or Rockwell scales – however, these are much more sophisticated and are really for malleable rather than crystalline materials.
It is used by geologists because it is simple and straightforward to use. It is based on the principle that a substance can scratch another substance that is softer, but not the other way around.
It uses a scale of ten minerals, each corresponding to a hardness number. The scale ranges from 1 (talc) which is scratched by all the other minerals, to 10 (diamond) which can scratch all of the other minerals.
It is important to keep in mind when using this scale that it is not linear. The minerals were chosen for their relative abundance, not their exact hardness, so the scale is a bit of a compromise. So, from calcite to fluorite there is a 25% increase in hardness, while from corundum to diamond the increase is 300%. So the jump in hardness between two minerals is variable.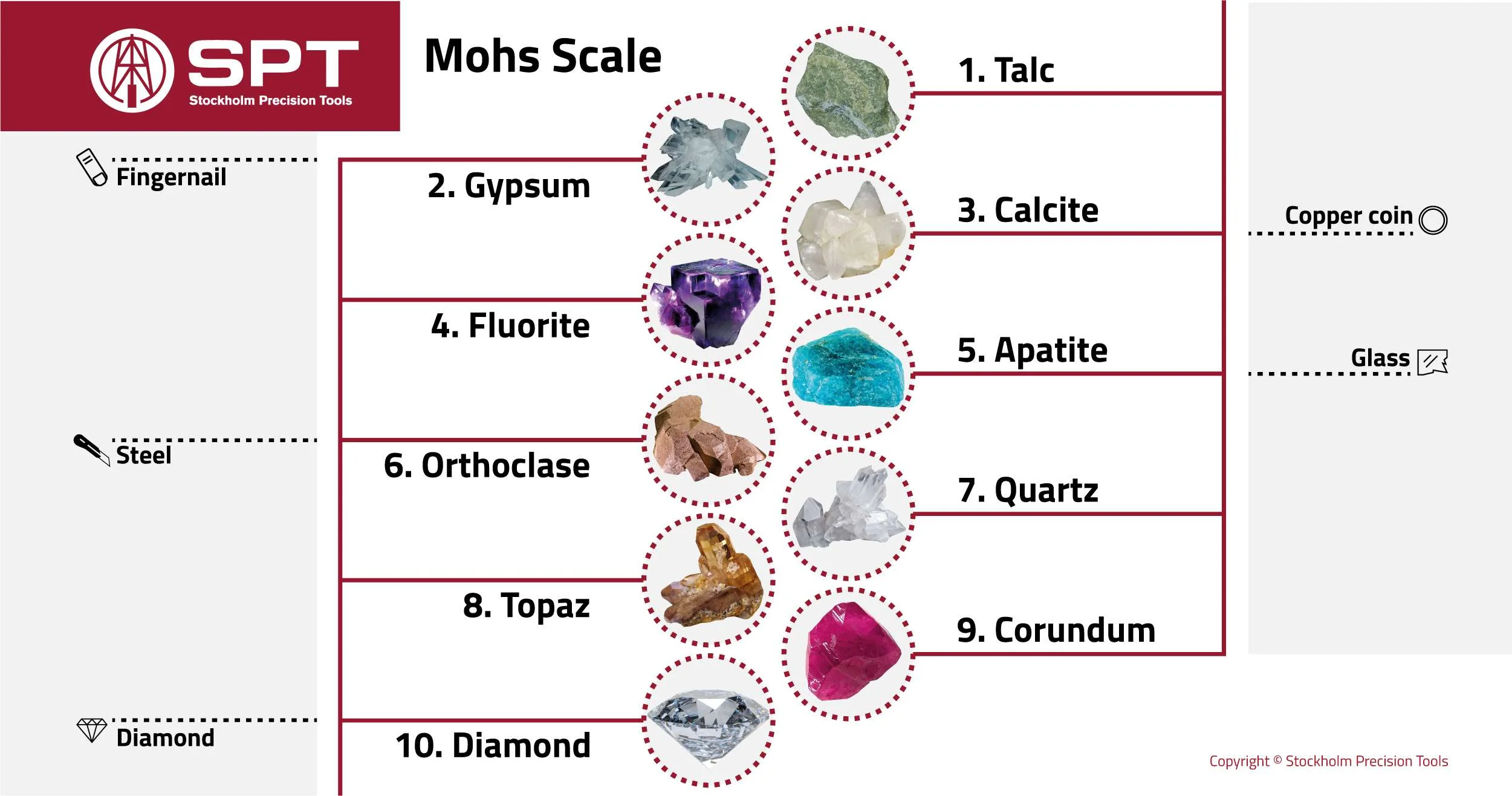 The Mohs scale is shown below, along with what can scratch each mineral:
Talc: easily scratched by a fingernail.
Gypsum: more easily scratched by a fingernail
Calcite: scratched by a coin
Fluorite: scratched with a knife
Apatite: scratched with difficulty by a knife
Orthoclase: scratched by a steel file
Quartz: scratched with glass
Topaz: scratched by tungsten tools
Corundum: scratched by silicon carbide tools
Diamond: scratched by another diamond and scratches all the previous minerals
In the same way that Mohs establishes these minerals as a measure of hardness, there are other common objects which we can highlight:
Hardness 2-3: a fingernail
Hardness 3: copper foil
Hardness 4-5: iron nail
Hardness 4- 7: glass beaker
Hardness 5-6.5: knife blade and steel nail file
Hardness 5-7: steel nail
Hardness 7: Quartz